Are you looking for the best North Carolina Essay writing services? Then look no further. Here at Galaxygrades.com, we will give you the best tips that will help improve your chances of standing out on your application. Have a read and contact us for more information.
The University of North Carolina requires students to write two essays and answer four short-answer prompts. Because of this requirement, essays are the primary way the admissions committee gets to differentiate between the students.
In this article, we are going to discuss the best tips to write an attractive University of North Carolina at Chapel Hill essay that will give you the best chances of being admitted into the college.
What Are the UNC-Chapel Hill Prompts?
A UNC chapel hill prompt is a statement that presents a specific idea followed by questions that require essay responses. The University of North Carolina uses these prompts to choose the best students to join their school.
For you to write an essay prompt that stands out, you must follow the following prompts that are standard at UNC chapel hill.
UNC-Chapel Hill Supplemental Essay Prompt 1
As a student, you will have to choose two of the following prompts to respond to;
If you could change something to better your community, what would it be? Why is changing this community important and how would you contribute to this change?
Give a description of a community builder. What actions has that builder taken? How do the builder's actions make a difference in your life experiences thus far?
Former UNC chapel hill employee, diverse and inclusive community service member, and civil rights activist Esphur Foster once said, " We are nothing without our history." Her words are memorized on the Northside Neighborhood Freedom Fighters Monument. How does history shape who you are?
Describe an aspect of your identity( E.g. religion, culture, race, sexual or gender identity, affinity group, etc.) How has your personal aspect shaped your life?
UNC-Chapel Hill Supplemental Essay Prompt 2
For the best North Carolina essay, a student will be expected to answer the following fill-in-the-blank responses in 25 words each;
One family tradition you cherish.
Something you believe in.
The quality you admire about yourself.
The protagonist you most identify with.
How to Write a UNC-Chapel Hill Supplemental Essay Prompts
UNC-Chapel hill essays put a lot of emphasis on the value of each person and the experiences they bring to their school. School officials are interested in the way you relate to the surrounding people.
The common app personal statement gives an applicant a great opportunity to show who you are as a person, but many of these supplemental essays focus on everything around you. Below are the best tips on writing a supplemental essay that will give you a great essay for an admissions committee to approve.
Tips on Writing Good Supplemental Essays
When writing a North Carolina Essay, there are several tips that you can use to give your essay a chance to stand out. These tips are;
Never repeat what is in your personal statement. The main purpose of prompts is to give you a chance to talk about something new. We could compare these essays to a Venn diagram. In a Venn diagram, each circle usually contains different details.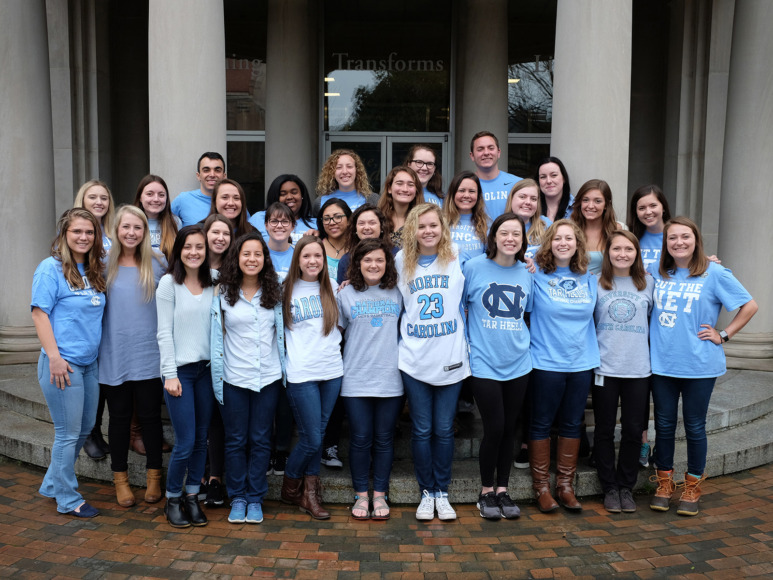 Brainstorm a list of communities and choose the best one you would like to talk about. These prompts will most likely ask you to think of different communities you are a part of and expand on what such a community means to you. Brainstorm with your friends to avoid speaking about the same communities for both of your essays. You can approach the idea of community by using place, identity, action, interest, and circumstances.
Make use of the space they give you – UNC essays will only give you 250 words per answer. Try to use these words to say something of value to guarantee you a spot at UNC-Chapel hill.
Get specific about your ideas– Be creative in presenting your ideas in the college essays. Your answers should be distinctive and should have a memorable voice.
Try to make your answers school-specific – Being a public research university, the University of North Carolina receives a lot of applications from aspiring students who want to learn alongside students already enrolled in the school.
For your essay to stand out, you must show the college application officers that you can write an interesting essay. These officers want to find out why you have chosen them among many other qualified universities around. They want to know if you are a good fit to join the unc community.
Your first draft should be long and then edited later. It is better to write a long draft of your essay and later edit it to include your main ideas.
Use your own voice– Admissions officers want to identify with you and have a chance to know you. Your admission essays are the best chance for them to get to know more about you beyond what is in your application. Make sure you present your essay in your own voice, writing about your own experiences. College officers can know when you are lying about your experiences.
Do not use cliches and overused phrases – The admissions committee has probably seen a lot of essays with the same phrases that are considered cliches to please them. Examples of phrases that students usually overuse when applying are, "Be the change you want to see in the world," "Think outside the box," or " All that glitters is not gold."
Proofread your work – Before you decide to hand in your essay, proofread your work and ensure that all mistakes have been dealt with. The best way to ensure that your work is 100% mistake-free is to start by drafting your essay. The first draft will give you an idea of how well to present your thoughts.
Use Technology and Internet to edit your work– Applications like Grammarly have come up to help students write the best essays for their college applications. The emergence of software like Microsoft Word and the internet have also come up to assist in the writing of these essays. Use these features to come up with a good essay that stands out.
Start by using a punchy and dazzling line to capture the attention of the reader. You can start by using a joke or an interesting fact.
Make sure you highlight your best values. Write about the things that make you stand out among the rest. Talk about your skills and qualities that will make your student life in the college worth it for the officers. An identity-shaped essay can guarantee you a spot at UNC.
Embrace invulnerability in yourself. Talk about the weakness that you might have and how these weaknesses can become strengths once you join the university.
Entice the reader by making him want to be your friend. A UNC essay should be able to capture the hearts of the admission officers so that they feel connected to you. Highlight how the challenges you have faced have helped you grow. Proper use of paragraphs should ensure your essay has structure. Lastly, give a sign of what you want to achieve in your life in the future.
Final Thoughts on Writing a North Carolina Essay
A North Carolina essay has assisted many students to join the student body at the University of North Carolina. The University has had a standard structure for writing essays that each applicant should adhere to.
Your UNC supplemental essays are your best chance to show the application officers that you are special and you stand out from the tens of thousands of students applying for a spot. The essays give you a chance to introduce yourself to the committee and to give them a sense of who you are.
On application, there are two major supplemental prompt essays that you should cover. For the first prompt, you will be required to choose two of the five questions that the college has offered you. These essay questions will prompt you to expand on who you are and what you are most passionate about.
The second prompt is a four-question prompt that will require you to write twenty-five words on each giving detail about your life experiences and the aspect of your identity. The officers use these answers to gauge if you are a good fit to join their college or not.
Are You Looking for the Best North Carolina Essay Writing Services?
Here at Galaxygrades.com, you are assured to get the best North Carolina writing service around. Our writers have years of experience in writing top-notch, plagiarized-free, and grammatically correct essays to ensure you get a call back from your University of choice.
We have dedicated writers who will commit to writing your paper with the specific standards required by your college and within the agreed deadline. Order your essay today. We guarantee you the best results in your application!